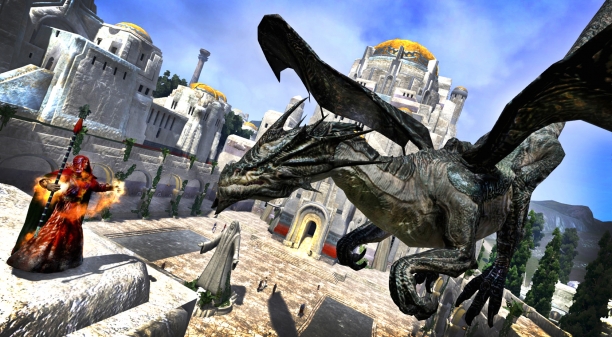 Age of Conan's 5th Anniversary!
This week we are celebrating Age of Conan's 5th anniversary, and we are making sure the occasion will be something truly special. There will be many things to look forward to for everybody and unique opportunities you don't want to miss. The festivities start on Thursday the 23rd of May, so make sure you are ready for every challenge and reward ahead.
Epic in-game Event!
During our Anniversary Event brutal boss monsters will roam the land. Some will attack settled areas while others must be tracked down before the battle can commence. Everyone, no matter how powerful, can join in the fight to take down these legendary monsters, and everyone will have a chance to get incredible rewards if the creatures are conquered.
The first monster will start rampaging through Hyboria on Thursday the 23rd of May, and the level of brutality will rise each day of the event. Every day a new boss gets lose until the fifth and final day when all five monsters will be out there! The chance to get epic and powerful rewards for taking them down also increases each day.
So get ready to fight! Early scouting reports suggest that Tarantia itself may be the first city to be attacked!
Permanent Improvements to Membership
From now on Membership gets greatly improved. Every character on a Membership account get the Blessing of Asura item, which doubles Experience Points gained from killing monsters for one hour and can be used once per day.
Characters leveling up on Membership accounts will now earn one Alternate Advancement Point per level. This means that at level 80 these characters will get a flying start with 80 points they can spend in the AA system right away!
But that is not all. Members now also get 200 Bonus Points each month which can be used in the Item Store. This more than triples the current amount of points Members get!
The Membership still contains all the regular benefits, such as access to all areas and fixed discounts to the in-game store. You can purchase Membership through the in-game store.
Anniversary Gifts
During the Anniversary everyone will be getting special gifts to mark the occasion. All will receive an Access Pass to the land of Khitai – the areas introduced with the Rise of the Godslayer expansion pack. These Access Passes will last for a full week, to let everybody who wants get a sweet taste of the great lands to the east.
Everyone will also receive additional cool items as gifts, and Members get double Item Store discount for the five days of the event and can expect an extra gift of a very special social item.
Be sure to claim all these gifts in the Item Shop.
Great Membership Offer!
Anyone buying 3, 6 or 12 months Membership gets an additional 50% for free as a bonus! The offer started on Friday the 10th of May and will last all through the Celebrations until Thursday the 30th of May. With the Anniversary Celebrations and improved Membership deal, this is truly a great time to become a Member in Age of Conan: Unchained.