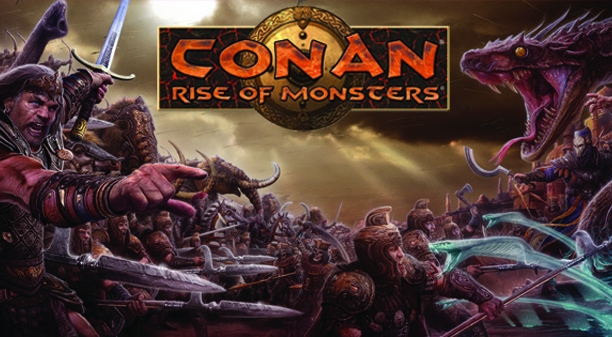 All new Conan Miniatures game from Pulposaurus
Conan: Rise of Monsters is an all new skirmish game made by Pulposaurus Entertainment. It features fully pre-painted miniatures of high quality, and you can play with armies commanded by Thoth-Amon or Conan himself!
A Kickstarter has just been launched for Conan: Rise of Monsters. You can get your hands on starter boxes for both the Circle of Iron and the Legion of Set plus much more! The starter sets contain a balanced force of fifteen pre-painted miniatures, rules, dice, cards, tokens and cut out terrain.
We are very excited to see awesome games like these being made. Robert E. Howard's world of Hyboria is a perfect setting for a miniatures game, and we think that such games can offer great entertainment for Conan fans around the world.
We wish the guys over at Pulposaurus Entertainment great luck with their new game and we offer the Age of Conan: Rise of Monsters Pack to anyone who pledges to their Kickstarter Campaign. This pack contains 5 XP Potions (double XP gain for 12 hours) and four powerful starter armor sets (Swashbuckler, Buccaneer, Marauder and Pirate) which offer a flying start into Age of Conan. When the Rise of Monsters Kickstarter is complete, and successful, then anyone who contributed will receive a key in an email update.
Update: The guys over at Pulposaurus Entertainment have just announced that they will be partnering with Reaper Miniatures to develop their Conan: Rise of Monsters skirmish game.
Reaper Miniatures has been making a host of great miniatures for decades, so it is good to see them team up with Pulposaurus to make a Conan miniatures game be all that it can. This new partnership means the Conan: Rise of Monsters Kickstarter has been cancelled, but we will keep you in the loop on further developments of the game.
Read more about this new development here.