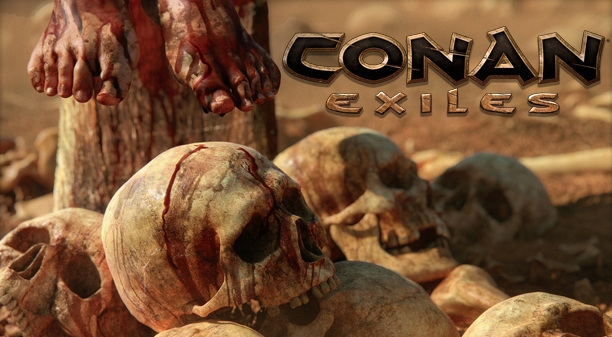 Conan Exiles Revealed!
Get ready Conan fans! You can now learn about our upcoming game based on Robert E. Howard's Conan.
Conan Exiles is an open-world survival game where you must survive, build and dominate in the brutal lands of Conan the Barbarian.
You are an exile, one of thousands cast out to fend for themselves in a barbaric wasteland swept in sandstorms and besieged by enemies on every side. Here only the strongest will survive while the weak will be left to die and slowly rot under the burning sun.
Hungry, thirsty, and alone, your very first battle is that against the harsh environment. Grow crops or hunt animals for food. Harvest resources to build weapons and tools. Build a shelter to survive. Ride across a vast world and explore alone, or band together with other players to build entire settlements and fortified strongholds that can withstand fierce invasions.
When strong enough, march forth into battle and wage war against your enemies as you fight to dominate the exiled lands. Unleash your fury in savage, fast-paced combat and execute bloody and bone-crushing attacks that will see heads rolling and limbs flying, or call upon the wrath of the heavens to aid you by sacrificing enemy players on the altars of the gods.
Who will you be? A warrior, a hunter, a builder ... or a king?
Conan Exiles will be released for Early Access on PC in the summer of 2016, with full launch on both PC and consoles to follow. While it supports single-player, Conan Exiles is first and foremost a multiplayer game that can be played on both public and private servers.
Learn more and keep up to date about Conan Exiles on its website, Twitter and Facebook.
See the all new teaser trailer of what is to come!