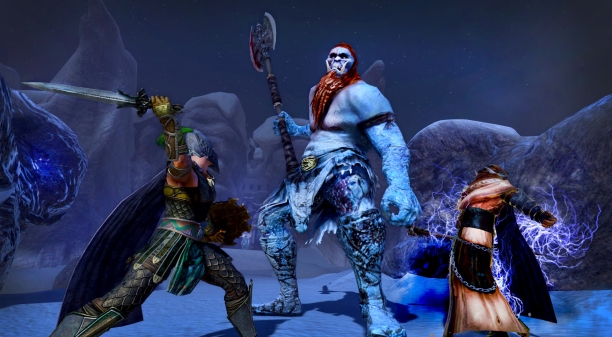 Game Director Letter December 2014/January 2015
Hi everybody,
Happy New Year and welcome to 2015. The team has returned from their holiday break a little bit heavier (too much food), a little bit seedier (too much drink) but full of energy and ready for work (too much coffee).
Before we move on though, you might have noticed the title of this particular letter. I'm taking the opportunity of the New Year to get the Game Director Letters back onto a sane naming system – as they are usually released in the first week of the month anyway, we'll start naming them for the month that they are released in, rather than the previous month.
Today I'd like to take a quick look back at the updates that the team made during 2014, before talking about the plan for 2015.
We kicked off 2014 with our World Boss events (well technically the first World Boss was at the end of 2013). The World Boss system was designed to provide you with a repeatable outdoor world boss each month and provide rewards for both participation as well as a long term legendary reward for players who were willing to work through the cycle.
Each month in 2014, a new monster was released upon Hyboria and the community came forward to meet the challenge. These events are a great way to bring the community together – allowing both experienced and new players to interact and be rewarded in a shared environment.
The World Boss system returns in 2015 with improved mechanics and new bosses.
Another big new system from 2014 was the all new set of Player vs Player events. There has been a lot of feedback on PvP over the years, and we wanted to start taking a look at balance, gear and the overall state of PvP. Naturally this is a long process, so we started by dividing it into smaller chunks and tackling those pieces one at a time.
Our first step was addressing some of the stat imbalance on PvP gear vs PvE gear. We did a pass on the PvP gear stats in the game, bringing the Tiered PvP gear closer to the PvE raiding tier gear in order to allow PvP to remain a valid and important progression pass.
With Update 4.2, we added a series of new recurring PvP events with the Festivals. This provided a new monthly PvP event, as well as a series of PvP daily quests. Accompanying this was a series of new rewards. The aim was to provide recurring content for those who prefer a different style of PvP content, and the draw in new players who might be slightly timid about jumping into the minigame system right away.
To provide some context for the missions and setup of the PvP event, we added a new set of quests for the 6th anniversary. This set of missions saw players returning to Tortage to confront old foes once more!
The PvP festivals will continue in 2015.
Continuing our research into class balance, the Update 4.3 series brought a long awaited class balance revamp. This was another improvement aimed at both the PvP and PvE sides of the game and allowing us to get the playing field ready for our next series of raids. Included with this update were a series of token vendors that allowed players to purchase new mounts, social pets and morphs as well as the ability to exchange multiple lower tier tokens for higher tier versions. This was again aimed at providing veterans with a worthy reason to play together with newer players and guiding them through the lower tier raids.
In October we released our Halloween Event, "Thirst of the Serpent God". All of the major hub cities Age of Conan now have their own Halloween Event and these will be making a comeback every year with new rewards.
Update 4.4 brought the "Unchained Raids" which is the 5th raiding tier released for Age of Conan. As the new top raiding tier, these were aimed at our PvE veterans with new gear stats for all classes as well as set bonuses. This is an important new feature which allows us greater flexibility for planning gear budgets – which will be very important when the 6th raiding tier becomes available.
I'm sure there are things that I have missed, but overall 2014 was a year about smoothing out core mechanics, tackling balance, creating systems that encourage more community participation and adding events for both PvP and PvE.
Let's take a quick look at what early 2015 holds.
The first thing you will see in the 2015 is the new Achievement System. We're aiming to patch that as a part of Update 4.5 in late January or early February. The first rollout of the achievement system will include Trials (awarded for dungeon run speeds) and include general achievements for PvE and PvP activities.
A part of the achievement system rollout is a new notification system, which we will be taking advantage of later in the year to create a smoother tutorial and introduction for the game.
For more experienced players, the new notification system will provide useful information about available content, challenges or events, for example, providing a notification that a World Boss event is under way.
After update 4.5, our next major focus will be pushing the long-awaited Crafting system out the door. We're hoping to have that in place during early 2015. The itemization of our content releases will rely, to some extent, on the crafting system so it is a major priority to get this finished.
Speaking of content, I recently spoke about the PvP arena. As mentioned on the forums, the design document was mostly discussing things in terms of solo PvP, but with a fair amount of feedback being posted on the forums, we took a look at the design and expanded the scope to include expanded team sizes. The one feature that would drive the expense through the roof would be matchmaking, so teams for the arena will need to be self-organized.
Beyond the Achievement system and Crafting system, we are still nailing down our production schedule for the year. You can expect to hear more about the status of Palace of Cetriss and The Slithering Chaos in an upcoming letter.
Thanks for listening and supporting the game – I hope it will be a productive and expansive year in Hyboria!
Joel