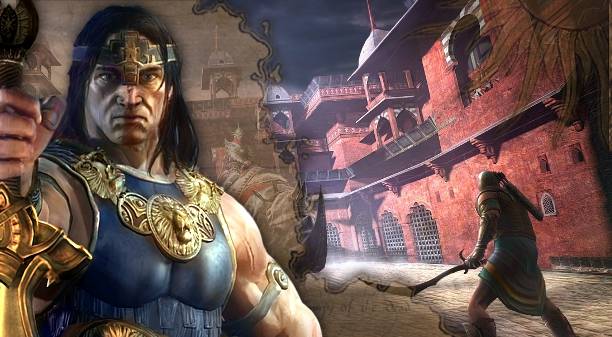 Monthly Development Update – August 2011
This month sees the launch (hopefully at the same time as you are reading this, if all the necessary stars have aligned correctly) of the Savage Coast of Turan Adventure pack. It marks another great content addition for the game in what has been, and will continue to be, a very busy year for us!
The Savage Coast of Turan
Hopefully you will all be enjoying this content already, or very soon. We are really excited to see this content going live. In many ways it has been the culmination of a lot of hard work, a lot of training, and the new team here in Montreal gelling to be able to provide the fantastic content that you will find in the adventure pack.
From the deep story, interesting quests, instances that weave parts of that story into some great game-play and experiences, and the truly stunning visuals that continue to push the limits of what is possible in an MMO setting, we are very proud to be inviting you all to come and enjoy the content, and to explore Turan for yourself!
The future ...what else is to come in 2011?
We aren't going to stop with the adventure pack this year. It has been a great year for new content and we want to continue that into the last part of the year as well! Before the end of the year you will see a lot of cool new content added to the game.
You will have the new PVP world bosses that we spoke about at length in last month's letter. Then you will also have the massive House of Crom dungeon, and the final encounters of the Tier four raid cycle. There is no set order for these yet as we work through the version internally, but the current plan is for all of them to come before the end of the year! That means the schedule will be fairly busy all the way through to the end of the year.
House of Crom is a two part maximum level dungeon, the first section of which is an open dungeon, as the Onyx Chambers are, before you enter into the second part in the form of a single team instance. In all there are over a dozen separate boss encounters in the House of Crom across both areas, so it will hopefully make for some of the best encounter game-play that you could ask for!
The open area in particular challenges players in a very different way than things we have tried before, with some very dynamic opportunities for co-operation (and indeed conflict if you happen to play on a PVP server!) and interesting game-play twists that we don't get to deploy elsewhere in the game. Therefore we are looking forward to adding another variety of style of content for you all to enjoy in that section of House of Crom.
Next month we will talk a little more about the Tier Four raid content, and what raiders can expect from the conclusion of the Khitai raids!
Looking forward to 2012 and beyond
This is also the time of year when we start with the early plans, designs and pre-production, for the content that will come in the first part of 2012. This year is no different, and we are determined to keep the great momentum we have with the game going through next year as well!
There will be a new adventure pack in the first half of 2012. Pre-production work has started on it; it is a little early to confirm any further details, but it is in the works, and we very much want to make sure that we continue to add these great new areas to the game.
Likewise there are a lot of systems and technology that we want to continue to develop. Last month we talked about the PVP side of things and mentioned the work that will be done on core systems like Stealth, but that won't be the end of the systems updates.
Then we also have the new single server technology that our Dreamworld Technology team is developing. We have mentioned this one before, and this system will allow us to have much more dynamic grouping of players, and also allow for the much requested cross server grouping and mini-game queues. The team currently has some internal prototypes up and running, and the core infrastructure is done. The next step is for us to design, and decide how to integrate the technology with the game, and start to establish the rules. We estimate that it may be ready for external testing towards the end of the year, with it coming to the live servers early in 2012.
Finally there is one new thing we are working on that we wanted to mention. Now...usually we don't discuss some of the 'further out' updates until we know more about the shape and form that they will take, however there is an area that we have started to look at that is the source of many questions from the community, and a lot of requests for change, so we wanted to acknowledge that not only do we agree, we have started looking at the solutions...that area is tradeskills.
We have started preliminary work on a revamp of the tradeskill system that exists in the game. Now that many of the other areas have been tweaked and improved, it is an area that we have wanted to get at for some time. While tradeskills were never a huge selling point for a game with a license like ours, they are a key part of an MMO, so we have started work on new designs to revamp and invigorate the crafting systems in the game. This will be a lengthy process, as it is no small undertaking, and we will talk a lot more in terms of details towards the end of the year, and envision the new systems going live at some stage in the first half of next year (providing, as always, that all goes to plan). We didn't want to try and band aid the existing system, so this is more of a substantial update that will hopefully integrate a deeper, more involving system for people to enjoy.
Wrapping up...
So there we have it, there is a busy schedule ahead of the teams here. We are thrilled with the success the game has enjoyed this year, and are eager to build upon that and continue that expansion into an exciting 2012 and beyond!
See you all on the battlefield.
Community Survey 2011
We wanted to take the opportunity to ask you all for your input on some of the possible things we could be working on, and what your opinions are in regards of what might be interesting for us to work on next! Here you an find the Age of Conan Community Survey 2011 . If you aren't tempted yet, and giving your feedback to the devs, or getting to express your opinion on possible developments isn't enough, we will also be awarding five prizes of 3000 Funcom Points to five lucky people who respond before September 9th! Your feedback is always an important part of our planning and your participation is appreciated!