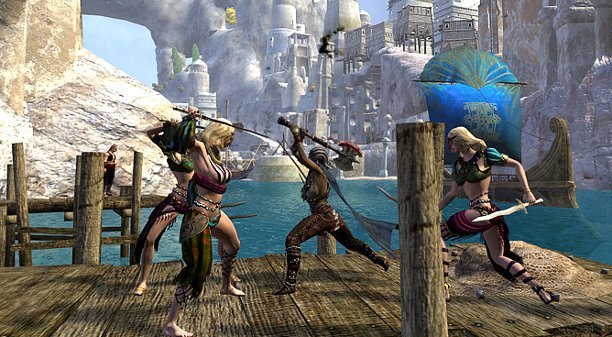 New Dynamic Social Events
Among other new social features, update 2.1 introduces two major brand new social content additions: Guild Events and Horse Racing! These new activities will provide whole guilds as well as every player with fun activities to try out and offer interesting and exciting diversion from the daily bloodshed.
Guild Events
The Guild Events are new social mini-games held in guild city taverns ("outdoor") or in the guild city cultural retreats ("indoor"). There are four event types introduced in update 2.1:
Treasure Hunt - (outdoor only) Pick up randomly scattered treasures across the zone for the highest point total.
Ymir's Hunt - (indoor only) Freezetag! Run away from the Ymirish or you'll be frozen. Survive or unfreeze others for points.
Storytelling - (indoor or outdoor) Take turns telling a story and vote for the finest storyteller over multiple elimination rounds.
Insult Contest - (indoor or outdoor) Skilfully insult a given target using the theme provided and vote for whoever you feel is the best at slinging the proverbial mud to give them points.
Any guild member can sponsor these events at any time by talking with their guild's new "Arbiter of Honor" NPC. Their sponsorship money becomes the prize pool that is awarded to the game winner(s). This guarantees countless hours of fun events with guild friends and might even end up in big festivities organized by each guild if they wish.
Horse Racing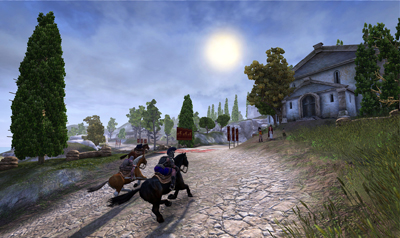 Horse Racing is a new feature for groups in Old Tarantia. Any group may pay Marcellus, the racetrack owner, to use his course for whatever race they like - it is up to the group to decide what kind of steeds (if any) to use for their race. Fancy a race to determine whose mount truly is the fastest? Only allowing horses or any kind of mount like Mammoths, Rhinos, Wolves or Tigers? A race over one lap or two or more? The choice is completely up to the group as they decide what rules apply for their own race.
There are also options to have obstacles such as barrels, sticky mud, and horse-spooking adders on the race track that need to be avoided. A nearby vendor NPC even sells carrots and sugar to get the most out of your mount and keep it up to speed during the race.
Who knows? Will there be a race track champion of each server soon who just can't be beat? Monthly races with price money or fame and glory? This is completely up to the community on each server. The possibilities are now there!
And there is more …
Besides the two major social content additions mentioned above, there are even more new social features introduced with update 2.1 that will keep players busy:
Renowned players can learn the dances of other races by seeking out quests across the world.
Old Tarantia now hosts a "VIP Area" on the rooftops, complete with drinks, dancing, and fireworks, accessible only by members of the top-ranked renown guild of the week and their guests.
In addition an assortment of over 30 new city decorations is also available in Khitai, from a few different sources to give guilds even more ways to decorate their city and make it look truly unique and after their own taste.