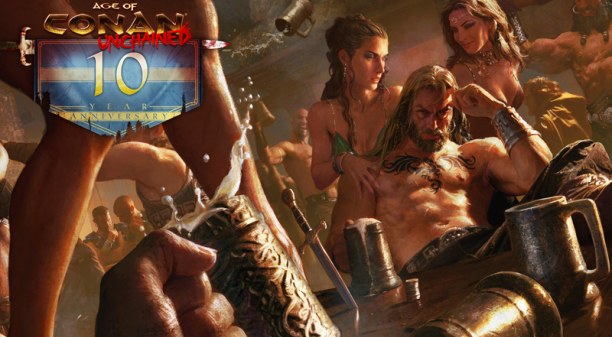 Celebrating 10 YEARS of Age of Conan
A Decade of
Hyborian
intrigue, adventure, and savagery
BY CROM!
It's been 10 years since Age of Conan was unleashed upon the world! We cannot thank you all enough for banding together and exploring the vast reaches of Hyboria and beyond.
To celebrate this momentous occasion, a wealth of anniversary content awaits - Whether you're letting heads roll down memory lane or stepping into the bloodbath for the first time, there's something for everyone!
Thank you all again for joining us on an incredible 10-year journey - let's raise a drink to many more to come!
FREE

Mount: The Golden Lion of

Aquilonia

The banner animal of King Conan's Aquilonia guards the plains with pride. Hail to the king, baby. This mount is available for free as the 14th Daily Event Reward. Speaking of which...

New daily login rewards are available during the event! The daily event rewards calendar replaces the standard one for the duration of the event. These rewards include Atlantean Shards, Paragon's Caches, Expertise Points, and the free mount seen above!

Spoils of Victory - Anniversary Edition
Every day, you will receive an additional login reward that gives you a special Raid Finder chest. This chest can be opened with the "Conqueror's Gift" buff after completed any daily challenge. In addition, the "Minigame Participation" daily challenge has been changed to "Raid Finder or Minigame Completion." This special chest contains numerous rewards, including a brand-new pet and cloak…

The Lion's Pride vanity cloak and Lion pet can be found in the Spoils of Victory! Become the pride of Hyboria with these items - and don't forget, the Lion can be used in the Pitmaster's Arena!
Black Ring Citadel on Raid Finder
Athyr-Bast the Shadow Master and Leviathus are ready to take you on! Black Ring Citadel joins the rotation on the Raid Finder - Permanently! As with all Raid Finder encounters, BRC can award its own exclusive pet through the Raid Finder...what will you find?
Classic Anniversary content, Shadows of the Past and Acheronian Soul are available for the duration of the event!
Royal Treasure Chests 30% off!

Royal Treasure Chests are -30% off for the duration of the event!


Quality of Life Improvements
Some of you have been asking for these changes for a long time, and we're happy to announce numerous fixes and QoL changes with the anniversary update.
Here's a sample of what's changing:
Settings are no longer stored on the server. Though this means that you have to have settings for each client, this will remedy settings being overwritten by the server when they fail to store properly.

The Resurrection window will now select the latest option, which prevents players from accidentally resurrecting to a res pad after receiving a second resurrection from a player.
PvE XP can now be disabled entirely starting at level 19, and we're bringing back PvE XP from PvP kills!