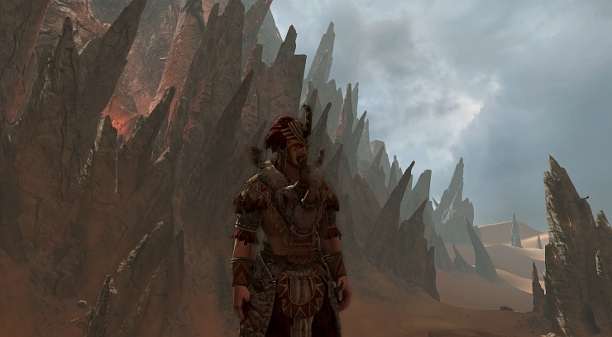 Free-to-play Improvements and December Offers
With the year drawing to a close, and the great new free expansion Secrets of the Dragon's Spine inbound, we also have some exciting updates and offers that will make it even easier for you all to enjoy your adventures in the brutal lands of Hyboria, and prepare to discover what lies hidden in the deserts of the Dragon's Spine.
F2P Option improvements
As time goes by we always like to stay aware of the trends in the MMO space, and as more and more games move to offer wider F2P options, we are always looking for how we can keep our offer interesting and appealing for prospective new players. To this end we are tinkering a little with our free to play offering and improving what is available. So what does that mean for you?
All Classes Unlocked! Free players may now try any of the games classes completely free.
Classic Dungeons unlocked! The complete selection of classic dungeons are now unlocked for free play. This includes ALL the pre-80 dungeons and a selection of level 80 dungeons as well! Level 80 adventures in The Crow's Nest, The Iron Tower, Xibaluku, The Slaughterhouse Cellar and Attilius' Mansion are all now available for free play!
Gold cap increased! In order to allow free players to engage more in the end game economy, in particular with the incoming new crafting system in mind, the gold cap on free accounts has been raised from 2g to 10g.
What's more is that you don't have to wait! These changes are live with the winter game update today.
Special Upgrade Offers!
The spoils of the Black Kingdoms are arriving from the vanguard of explorers driven south by the passage in search of the Dragon's Spine. They are bringing with them a wealth of free loyalty rewards and new upgrade offers!
Those looking to upgrade to premium status can check out the Seer of Punt Pack, the Keshan Rider Pack, and the Kushite War Prince pack, which offer a host of great rewards for taking three, six and twelve month premium packs, including a stock of awesome potions, and other great rewards. These packs also all include bonus Funcom Points so that you can choose your own rewards from the store! No more getting stuck with a reward you already have!
Last, but by no means least, there is also a brand new Black Kingdoms vanity armor set exclusive to the War Prince pack as a preview of the type of Black Kingdom inspired vanity armors that will be coming your way in the new year!
You also don't have to spend a penny to enjoy the seasonal loyalty rewards as each week will bring with it a new pack of spoils of war. Starting with the Spoils of Shumballa pack, which includes a Phial of Tranquility, Five Minor Elixir of Resurgence, FiveExcellent Spiced Bloodbread, Five Excellent Runeriver Mead, and five Excellent War's Breath, these free packs can be claimed once each on all of your characters! Just load up the item store and grab them for free every week!
Each week will bring fresh spoils from a different Black Kingdoms campaign throughout the holiday period!
Veteran free players can also enjoy some free time in The Black Ring Citadel and the House of Crom with the free Raiders of Tombalku pack, available only during the campaign, this special pass will grant you access to some raiding goodness completely for free!
Back to Battle!
There has never been a better time to dive into Hyboria, or bring your friends to the battlefield! Make sure you don't miss out and join us on the battlefield this holiday season!