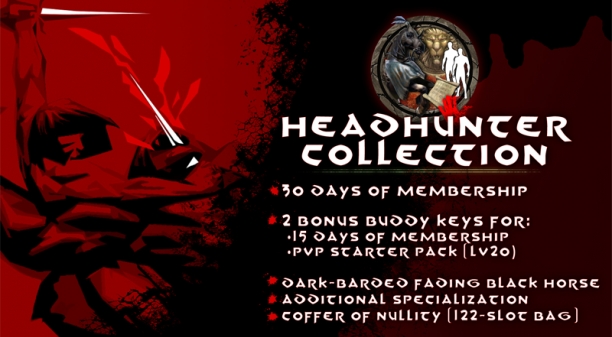 Headhunter Collection Now Available!
It's dangerous to go alone! Conscript new allies in the battle for Saga supremacy with 30 days of Premium Membership, plus two bonus 15-day Membership keys you can gift to friends during Saga of Blood!
Catch-Up Buff (QUAD XP)
From now on, all lower-level characters on Saga of Blood receive QUADRUPLE Experience up through level 49! As we continue to increase the level cap, so too will the Quad XP cap.
---
BUNDLE INCLUDES:
30 Days of Premium Membership
Two (2) bonus 15-Day Membership Buddy Keys that includes PvP Starter Pack (Level 20)
The following items:
Dark-barded Fading Black Horse, a classic mount that automatically scales up to the fastest speeds with your riding ability

Additional Specialization, granting one additional feat specialization (up to 4 additional specs)

Coffer of Nullity, a 122-slot inventory bag
This bundle is exclusively available for purchase on Saga of Blood. All the items included in the bundle are a one-time claim for your Saga character, but the mount is an account-wide claim for all your characters!
Each account may register ONE (1) Buddy Key ever, regardless of source. Don't delay - unused Buddy Keys expire at the end of Saga of Blood!
You may find your Buddy Keys from your Account Homepage (https://account.ageofconan.com/), under "Show Payment History". Please note: You can't apply a buddy key on your own account!
If you're having trouble with your buddy keys, please click here.