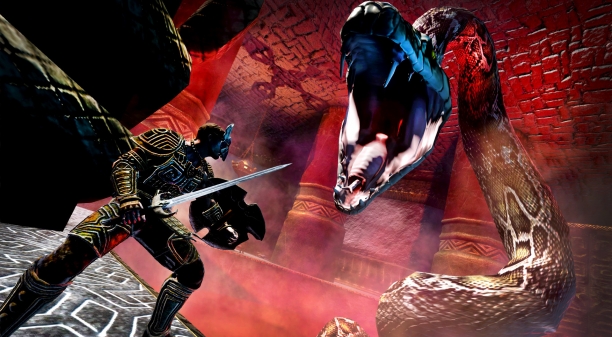 Thirst of the Serpent God Halloween Event!
Play now to take part in an all new Halloween event in Age of Conan! The event starts today and lasts for two weeks until the 12th of November.
The Festival of Set is underway in Khemi, and the Priests of Set are out for blood sacrifices to slake the thirst of their Serpent God.
An all new quest will take you into the heart of the Black Pyramid itself, as you are brought there to be sacrificed. Can you thwart the Priests' plans and escape?
You can also take part in an all new PvP event which takes place during the night time in Khemi and offers quests, bosses and bloody carnage in the streets!
Play the Thirst of the Serpent God event to get your hands on new loot, such as special Halloween masks or the Swift Stygian Festival Stallion, a unique mount made for this occasion. This mount can also be gotten in the in-game Item Shop, for only $4, a huge discount for a swift mount for this year's Halloween!
You can also play last year's Halloween event called By The Light of the Moon, where a band of Werewolves threaten Conarch Village, or take on the Nights of Lost Souls classic Age of Conan Halloween event.
Play now for the bloodiest Halloween ever!